Diving Zeeland
Diving in the Grevelingen is in a class of its own. Each year, thousands of scuba divers visit the area to view the unique plant and animal life under water. The still water means that clay and sand particles have sunk to the bottom, making the water very clear.
In May 2008, several diving locations at Schouwen-Duiveland were updated and improved. Landing stages were built that feature swimming ladders, public toilets and pedestrian steps over the dike. These new features have made diving in the area even more enjoyable.
In the Grevelingen, scuba divers must abide by various rules that are contained in the Grevelingen General Regulations.


A dive in Lake Grevelingen
It's early in the morning, and the day is supposed to be hot and sunny. I calmly descend into the water. It is not very clear, but visibility improves as I go deeper. The water temperature is quite pleasant. Once I've reached a depth of about seven metres, I turn on my torch and extend my arm to shine some light on the rocks. At ten metres under, I see that the rocks are covered with a fascinating array of vegetation: sponges, seaweed, sea anemones, a type of lichen and hydropolyps, they're all here.
The first animal I see is a large shrimp, with a transparent body, blue and yellow stripes and two extended antennae. I don't understand how this animal works: it's alive but you can see right through it. A bit further on I see a lobster under a stone. When I shine the light on its head, it retreats to under the rock, but if I shine the torch on the ground in front of its resting place, it seems become curious about it and partly emerges from under the stone. I swim further and see two elysias on the edge of a stone. You can only see these sea slugs during a short period during the year. They certainly aren't the only animals here; the place is teeming with life. The creatures are well camouflaged and adapted to their environment. A butterfish glides smoothly under a rock and shows me the way to a fat eel that is hiding there, resting from a night of hunting. In a hole I see a whopper of a North Sea crab. I continue on my way and am surprised by the large number of gobies, green and black, in every size imaginable. One is sitting under an empty oyster shell with its head peeking out. I think the inside of the shell may be full of eggs. A flatfish less than ten centimetres long glides over the seabed. They are only actually visible when they move.


Dive site Scharendijke West (16a)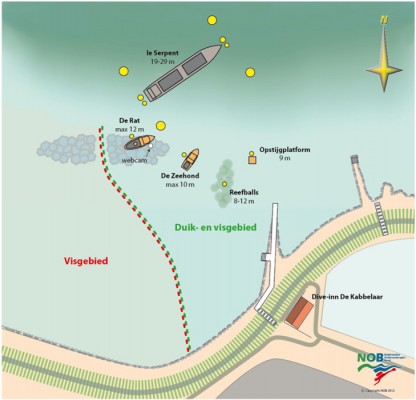 The Scharendijke West (16a) dive site is one of Zeeland's most popular dive locations. This site is popular for several reasons, among which are the wrecks of three boats that were sunk in 2011 and which lie within swimming distance of the pontoon. Wreck diving is, after all, appealing for many divers. The mysteries that surround the vessels make diving the wrecks a real experience! This, together with the diversity of the underwater life and the many facilities for both divers and non-divers, mean that the three wrecks have made Scharendijke a real diving hotspot.


Safe diving
Diving is an adventure sport. This is why the Nederlandse Onderwatersport Bond (NOB - Dutch Underwater Sports Association) has established guidelines for safe diving in Dutch waters. Divers themselves are responsible for following these guidelines. The guidelines can be found on www.guidelinesforsafediving.co.uk.

Le Serpent
Material: concrete
Length: 57m
Width: 10m
Location: max 29m


De Rat
Material: iron
Length: 14m
Width: 2,7m
Location: max 12m


De Zeehond
Material: iron
Length: 9m
Width: 3m
Location: max 10m